Vines and wines in Britain
An increasing popularity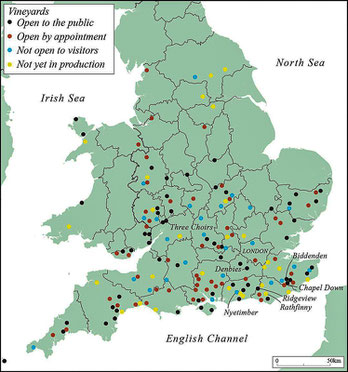 Great Britain does not immediately come to mind when one thinks about wine production in the world. In fact only 2,000 ha (5,000 acres) of vineyard are planted in this part of the world. In 2015, there were 502 vineyards in both England and Wales, with an average surface area of 4 ha (10 acres). The number of wineries was of 133. That year, production was close to 5 million bottles, that is to say less than 1% of the total volume of wine sold in the UK.
Nevertheless, we hear more and more about English sparkling wines and about the fact that some great Champagne wineries are now investing and buying land in England, due to global warning. Over the last 10 years, the surface area planted with vineyards has more than doubled and experts expect it to rise by 50% by 2020. 
Vine-growing in Britain: a challenge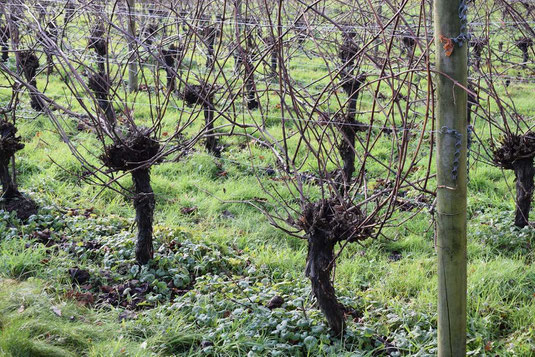 The difficulty of growing vines in the region comes from the climate, which is too cold and not sunny enough for the grape varieties commonly grown in the other wine-making regions of the world. This also explains that the overall production remains very unequal from one year to another: over the last 10 years, the average yields have oscillated between 6 and 35 hl/ha (with an average of 20 hl/ha). 
The winemakers have had to plant grape varieties adapted to the cool English climate: they have a late flowering, ripen early (the harvest takes place in late October or early November though) and resist diseases such as mildew. Some of the grape varieties grown in Britain  are only found in this part of the world. The 3rd most planted grape variety is called Bacchus: this hybrid, created in 1933, now represents 10% of all the grapes grown in Britain, and is used to make white wines, as well as Seyval - 4th most planted grape variety.
Yet the British plant more and more European grape varieties (Vitis Vinifera), mostly Chardonnay (the grape variety that is the most widely planted today - 23% of the production) followed close by Pinot Noir (2nd most planted) and Pinot Meunier - today these 3 grape varieties represent more than 50% of all the grapes planted. Those are the 3 classics of Champagne - they are used ot produce sparkling wines, that are the most produced in England, with 66% of the overall production, and certainly the most popular at the moment. Then come white dry wines (24% of the production), and red rosé wines (10% of the production).
Mumfords Vineyard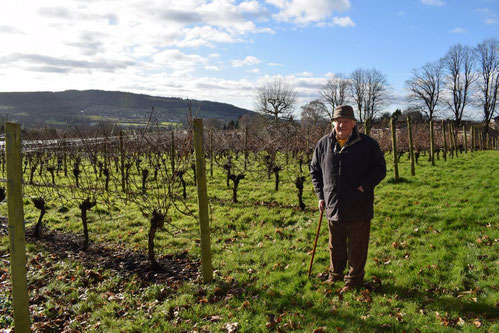 In December 2017, while staying for a few days in the city of Bath, in Somerset, I had the opportunity to visit Margaret and Tony Cox's vineyard and winery in the small village of Bannerdow, just a few kilometres outside Bath.  This couple, who is about to retire (within 2 years, from what they told me), settled in the region in 1976. They planted their fist vines in 1986 - 5,500 vinestocks at that time, and the number has not really increased since then. It is that same year that they came to visit the Loire Valley, Margaret told me, which caused her a lot of anxiety, as she was afraid something might happen to the young vines while they were away. The vines overlook the Avon river, that also goes through the beautiful Georgian city of Bath. 
For Tony and Margaret, the possibility of planting European grape varieties - which today have a large share in English production - did not arise. In the 1980s, global warming was not a hot topic. Their choice therefore fell on hybrids. The most widely planted grape variety on their estate is Madeleine Angevine. As its name suggests, it was developed in the Loire Valley, in Angers. It is particularly suitable for planting in northern regions, flowering occurring late and ripening being early (15 to 20 days before Chasselas, the reference variety). It gives wines with good ageing potential. Alone, this grape variety produces light wines with pronounced muscat aromas. It can be used for blends, its slightly marked acidity allowing it to contrast with grape varieties where it is more present. Tony also grows Reichensteiner, a cross between Müller-Thurgau, Madeleine Angevine and Calabreser Fröhlich, developed in Germany in 1939. It is a popular variety in England, with an early maturity, which is capable of producing large quantities of grapes, but quite neutral in aromatic terms and with a high sugar concentration. It is often used in blends both in the production of still or sparkling wines. Finally, the estate's rosé and red wines are made with Triomphe. Also known as The Triumph of Alsace, it was, when Tony and Margaret planted their vines, a popular grape variety in England. It gives good yields and ripens early, has low acidity and high sugar content. It is however sensitive to diseases, hence its decline in favor of other varieties of grapes.
The wines of the estate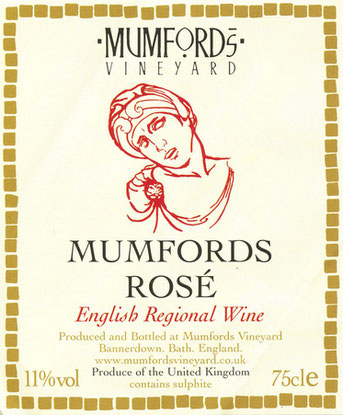 Mumfords Vineyard produces 4 wines:
- Madeleine Angevine: a dry white wine made from 100% of this grape variety. Not very acidic and fruity, it gives the impression of a semi-dry wine on the palate. On the nose, its notes of Muscat are strongly reminiscent of some wines made in Alsace.
- Mumfords White: a blend of Madeleine Angevine and Reichensteiner.
- Mumfords Red: 100% Triumph. A wine whose aromas are reminiscent of fortified wines such as Port. Low acidity, hence the impression of a wine that lacks structure.
- Mumfords Rosé: also made from Triomphe. I did not have the opportunity to taste it.
All these wines have low alcohol. Tony is happy to be able to sell vintages that are a few years old already, unlike most wines found in supermarkets.
The labels of the estate represent a Roman woman, to recall the very ancient history of the place. While planting their vines in 1986, Tony and Margaret discovered a Roman coin dating from 270 AD. The Romans settled in the region in 43 AD. Like the Celts who lived there before them, they were fascinated by the hot springs found in the area and built temples dedicated to goddess Minerva, and thermal baths, which we can visit today (see photos below). We know that the Romans grew vines in England, and we can imagine that this was the case in the region of Bath. As for the name of the winery, Mumfords, it is said to come from a French nobleman, Simon de Montfort (1208-1265), 6th Earl of Leicester and son of Simon IV de Montfort, Viscount of Albi and Earl of Toulouse. When it comes to history and wine, there are definitely many links between France and England!