Almond and red fruit yummy cake
Spring 2020 ... Lockdown allows me to rediscover the pleasure of taking the time to cook. Today is Sunday, pastry day. I share this almond and red fruit cake recipe, which includes a little white wine among its ingredients. A very simple recipe, quick to make, for a very gourmet cake, super soft, and sweet just as it should be. Frankly, it's a amazing.
A very simple recipe for a delicious dessert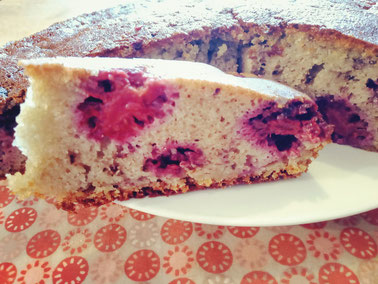 Originally, a recipe for 'financiers' (small cakes including egg whites), which I diverted because I do not have suitable cake tins to make them. The recipe recommends using a dry white wine from the Jura region, I incorporated instead some dry Vouvray (vintage 1970 - a bottle given by my parents-in-law, which turned out not to be that exceptional to drink but which was suitable for the cake. A more recent vintage will do just fine!)
Ingredients
To make this cake here are the ingredients you will need:
- 200 g icing sugar
- 100g flour
- 100g almond powder
- 8 egg whites
- 1 packet of dry yeast
- 140 g butter
- 3 tablespoons dry white wine
- 2 bowls of red fruit (raspberries or blackberries ...)
Let's bake!
1. Mix icing sugar, flour, almond powder and yeast. Add the egg whites.
2. Melt the butter. Gently pour it over the dough while mixing.
3. Stir in white wine, mix well.
4. Keep in the fridge for 1 hour.
5. Preheat the oven to 180 degrees (th. 6).
6. Line a cake pan, pour in the dough.
7. Cook for about 30 minutes. Push the tip of a knife into the cake to make sure it is cooked, the tip of the knife should come out clean and dry.
8. Let cool before unmolding.

Enjoy! Bon appétit! 🥧🥄 😋
What wine should we drink with this dessert?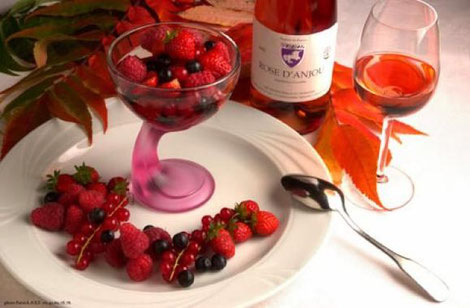 Several options are available to us when it comes to pairing this cake with wine.
You can for example serve a Cabernet d'Anjou: this semi-dry rosé from the Loire Valley is made with Cabernet Franc and Cabernet Sauvignon grapes, in the region of Angers. The sweetness of the wine makes it perfect pair it with desserts, and in particular with desserts including red fruits. The pairing plays on the similarity of the aromas of the dessert with those of the wine: the red fruit notes of the cake will go perfectly with the berries used to bake the cake. An AOC Rosé d'Anjou wine can also do the trick, but make sure it is sweet enough to accompany the dessert.

We can also consider serving a sweet wine, whose residual sugars will perfectly pair with this dessert. Choose it sweet, but not too sweet, so as not to make the pairing cloying. An old vintage could be interesting because sweet wines sometimes develop almond aromaas, which will echo the almond present in the cake.

Finally, why not taste a sparkling wine, in this case semi-dry? The bubbles, if they are small and fine, will go perfectly with the softness of the cake. If you wish to serve a Loire Valley wine, you should choose a sparkling Montlouis-sur-Loire or Vouvray. And if you want to travel outside the Loire Valley, why not serve a Clairette de Die? This slightly sweet wine, produced in the Rhône Valley, has fruity and floral aromas that will go well with the dessert.
By the way, do you know how rosé wine is made? What are residual sugars in wine? Where do bubbles come from in sparkling wines? If you are asking yourself these questions - and others perhaps? - it's time to schedule a wine tour with Myriam! The most suitable visit will be the 'From vine to wine' tour: a complete experience that will allow you to understand grape-growing during a guided walk in the vineyard, followed by a guided tour of the winery and cellar to learn about winemaking. Without forgetting the final tasting to discuss the techniques of wine tasting as well as food and wine pairings. See you soon!