Recycling corks into decorative objects
Corks are an interesting material that can be used all kinds of decorative items for the home.
The trick is to drink enough wine and open enough bottles to have a small stock available!
If you run out of cork stoppers, do not hesitate to ask the winemakers, who often keep them and then give them to associations that deal with recycling them.
Indeed, cork is an excellent insulator and corks are therefore used to make insulating plates.
Turning corks into a bulletin or photo board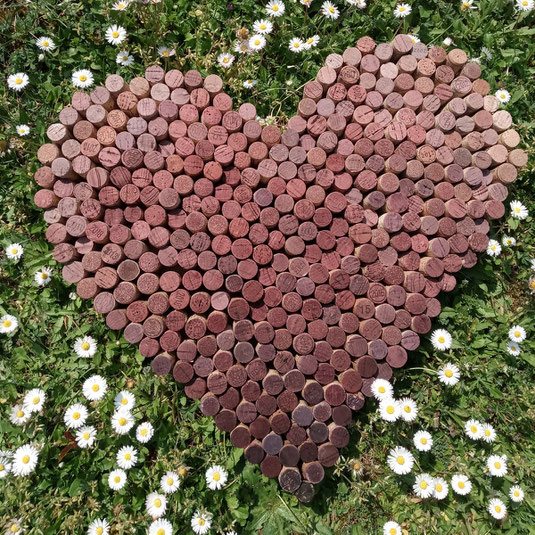 A decorative object that will have its effect in any room of the house: in a bedroom to pin photos, in the kitchen to leave out the shopping and to-do lists, in an office to replace a magnetic board, or in a bathroom without necessarily pinning anything on it... It's very simple to make, as long as you have enough corks available. This implies drinking or tasting a lot of wine and therefore opening a lot of bottles ... If, however, you don't have enough corks, do not hesitate to ask winemakers or wine merchants, who often keep them for then give to associations whose goal is to recycle them.
As far as I am concerned, I chose to only use corks from red wine bottles.
I placed them on a rigid cardboard, 2-3 mm thick, on which I had previously drawn the shape of a heart.
I made a gradient of colors with the corks, using the darkest ones at the base of the heart.
I only glued the corks once the pattern was obtained, using strong glue.
A second layer of cardboard was necessary where the clip was placed, which allowed the heart-shaped board to be suspended.
The cork stoppers, once assembled, are quite heavy, so be careful not to make patterns that are too large, or else make sure that the support is strong enough to withstand the weight of the corks.
Above, my own heart-shaped bulletin board, before I hung it in the guest room.
Below, other creations found on the Internet, which you can take inspiration from.

You may

only use corks coming from white wine bottles, which you could also paint, or on which circles of pretty scrapbooking paper can be glued.

Finally, for a lighter construction, a hollowed-out heart has just as much effect!



Do not hesitate to share your creations with us, by posting your photos on the Facebook page of Rendez-Vous dans les Vignes!

We will be delighted to see them.
Corks in a flower pot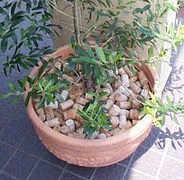 No time to start creating your own decorative objects? Instead of throwing corks away after your wine tastings, you can use them as they are in your flower pots or at the base of a plant to hide the soil and keep the moisture. Just make sure they don't get moldy, which may happen if they get wet too often, or if the jar is placed in a damp or poorly ventilated room.