Meet two wine ladies!
Since the outbreak of Covid-19 and the various lockdowns, the Internet and social media have become increasingly important for business owners. At the beginning of 2021, we consequently felt the need to take stock of our strategy on social networks and to revamp our website. This need triggered two nice encounters: Adeline, who has been working as an intern with us since March 24th, and Anaïs Kirmiz, of the consulting office "Atelier Rouge Carmin". I shall introduce them to you in this article.
Interview : meet Adeline!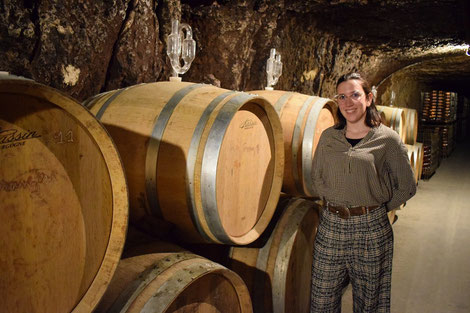 Adeline has been working as an intern with us for a little more than 3 weeks now. Her main missions: overhaul both our French and English websites and write articles to enrich the blogs. Adeline is from the Cher department (between Bourges and Vierzon), where her family owns a business related to wine. We discovered that the company created by her grandfather has a link with our family winery, Vignoble Alain Robert! What a small world!
Do you have roots in the wine world?
Not quite, but in my family, we work with wineries. In fact, on the maternal side, we have been "merrandier" generation after generation. My great-grandfather Louis worked in the French forest to create the wooden slats that will be used by coopers to make barrels for wine. These wooden slats are called staves, they are made of oak. Then, in 1979, my grandfather created his own stave mill, Merrain Camille Gauthier in Méry-ès-Bois, in the Cher and today, it is my mother and my uncle, Nathalie and Ludovic Gauthier who are at the head of the business. I will tell you more about it in an article coming next week. 
We discovered that you mother and your uncle's company had a link with Vignoble Alain Robert, my husband's winery. Could you explain it to us?
What is the link between "merrandier" and winemaker? The barrel! Our common denominator is therefore a cooperage, more particularly the Chassin cooperage, located in Burgundy. The partnership between Merrain Camille Gauthier and Tonnellerie Chassin has now existed for over ten years. They work closely together to offer barrels adapted to each wine and winemaker. The Chassin cooperage is also a family business with a unique know-how. Together, the two companies highlight the origin of the woods and their traceability.
So, do you have an interest in wine?
Of course, since I was little, my family has always encouraged me to taste and experiment. In 2018, I went to California for the harvest, I wanted to learn more about how wine is made. I am currently only a beginner in tasting, but I hope to have the opportunity to improve myself, it may be necessary for my future professional project.
Which wine do you particularly like?
At the moment, I have a weakness for champagne, whether as an aperitif or accompanied by a good dessert, it is a wine that I really like. It is also the first wine I ever tasted! Being little, I was allowed a little flute, I will always associate champagne with family and celebrations.
Explain to us your background and your professional projects
I am currently a business school student in Tours in international trade. I had the opportunity to start traveling at a young age and haven't stopped since! I think I got that from my grandfather who traveled around the world multiple times. Wanting to combine this passion with my work, I naturally oriented myself towards an international career, and this allowed me to combine my love for languages. Indeed, I speak three languages fluently and I am a beginner in three others.
The Covid unfortunately turned my plans upside down because I had to return from England in the first lockdown of 2020 and I've been in France for a year now, I am itching to travel again, I hope the situation will allow it soon. I want to work abroad for a few years before coming back to France.
Atelier Rouge Carmin: consulting office in wine tourism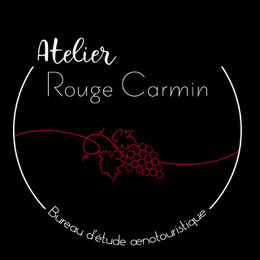 Before Adeline arrived, I called upon the services of Anaïs Kirmiz, founder and manager of Atelier Rouge Carmin, a consulting office based in Angers and specialising in wine tourism. I heard of this agency via the social networks and I decided to ask Anaïs to carry out an audit of our website and social media. Her report and recommendations to  reposition our Internet and social media strategy served as a basis for Adeline's work. Anaïs carefully listened to our needs, and her responsiveness and adaptability are qualities that we have particularly appreciated in our collaboration. I invite you to discover her work on her website (link below).
To conclude...
The wine sector is rich of many trades and talented people. Did you know that it employs over 550,000 people in France (direct and indirect jobs)? Many more encounters in perspective for all wine lovers! This will be our case at the end of June, as we will welcome a new intern studying communication, for new missions this time. You will soon hear again about Loire Wine Tours!