International Furmint Day etc.
I am sure you all know about International Women's Day (March 8th) and about World Kindness Day (November 3rd) ... But did you know that on certain days of the year, grape varieties or styles of wine are celebrated? February 1st thus spotlights Furmint, a Hungarian grape used in the production of Tokaji. A good publicity for these grape varieties and types of wine, but also for the countries or regions that produce them ...
A way to highlight grape varieties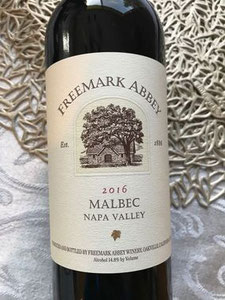 The French, like the Italians, Spaniards, and most Europeans, don't drink grape varieties, unlike New World consumers who buy their wine based on the grape variety mentioned on the label. A bottle of wine produced in the United States highlights the grape variety (single or predominant in the blend) with which the wine was produced. An American will tell you, for example, that (s)he likes to drink Malbec, and it is what (s)he will look for on the label when buying wine. In Europe, the Denominations of Origin system (AOC / AOP in France, DOC / DOCG in Italy, DO in Spain, etc.) emphasizes the origin of the grapes and the terroir. And for one good reason ! A Malbec produced in Cahors (Southwest France), or in the Loire Valley, or even in Argentina, won't give the same results in the glass. The mention of the grape variety on the label is not mandatory in Europe (with one exception, however: Germany), although more and more winegrowers specify it (often on the back label), even when it is a varietal wine.
The 2021 grape varieties calendar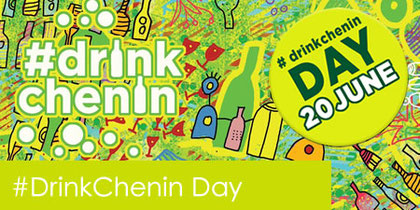 So what if these days dedicated to grape varieties were the opportunity to discover new wines and wine-growing regions ... in short, to deepen our wine culture? Here is the 2021 calendar of these International Days ... useful if you lack are lacking inspiration for your wine tastings! Go to your local wine shop where you will very probably find a wine made from these grape varieties. Note that the list is not exhaustive, since there are around 10,000 grape varieties in the world. By the way, you will notice that the spelling convention wants us to write the names of grape varieties with a capital letter.
February 1st 2021: Furmint. This grape variety is not very well-known outside of Hungary, where it is used to make Tokaji. A wine that you will surely find in all good wine stores.
March 13th 2021: Riesling. Originally coming from Germany, this grape variety is nowadays one of the top three white grape varities grown in the world. Alsace in France, the Finger Lakes in the USA, Clare Valley and Eden Valley in Australia are also regions that are famous fro Riesling.

April 17th 2021: Malbec. Also called Côt, this grape variety originates from the South-West of France (the town of Cahors in particular), where it is still grown, but it is also found in the Loire Valley and all of southern France. Argentina also produces large quantities of Malbec.
May 7th 2021: Sauvignon Blanc. Originally from the Loire Valley, this grape gives lively and very aromatic wines. It is one of the three most widely planted white grape varieties in the world, along with Chardonnay and Riesling.
May 9th 2021: Muscat. Which Muscat? There are actually several varieties of Muscat, among which the best known are Muscat Blanc à Petits Grains, Muscat Ottonel and Muscat d'Alexandrie. It is found in Alsace but also in the south of France, where it allows the production of fortified wines such as Muscat de Rivesaltes, Muscat de Beaumes de Venise, MUscat de Lunel, Muscat de Frontignan, Muscat du Cap Corse.
May 21st 2021: Chardonnay. Of French origin, Chardonnay is another of the most widely planted white grape varieties in the world. In France, Champagne and Burgundy are its favorite regions.
June: Chenin (date to be confirmed for 2021). One of the king grape varieties of the Loire Valley, its original cradle. The Loire Valley produces 90% of French Chenin Blanc, which is also cultivated in the Bergerac region (south-west) and in Limoux (Languedoc). The world's largest producer is South Africa.
July 22nd 2021: Syrah. A grape variety originating from the Rhône Valley, it is the star of this region, with mythical AOCs such as Côte Rôtie, Hermitage, Croze-Hermitage, Cornas, in the north ... Châteauneuf du Pape (where Syrah is used in blends with Grenache and Mourvèdre) in the south.
August 1st 2021: Albariño. A white grape cultivated in north-western Spain (DO Ras Baixas).
August 18th 2021: Pinot Noir. It gives more qualitative wines when grown in cool climates. It is therefore grown in Burgundy, Alsace and Champagne, but in many other places arounf the world (it is one of the top 3 red grape varities planted in the world).
September 2nd 2021: Cabernet Sauvignon. A cross between Cabernet Franc and Sauvignon Blanc, this red  grape is originally from Bordeaux. It prefers warm soils (such as gravel) and requires a long growing season to ripen. In which case it gives very colorful and very tannic wines.
September 17th 2021: Grenache. White, black or pink ... 3 versions for this variety of Spanish origin (Garnacha is its original name) which loves heat and is therefore planted in Languedoc-Roussillon, Provence and in the south of the Vallée du Rhône.
October 10th 2021: Pinotage. A grape variety resulting from the crossing of Pinot Noir and Cinsault, developed in South Africa. It is actually rarely cultivated outside this country, so that it is little.
October 31st 2021: Carignan. Another Spanish grape variety (Cariñena), planted in the wine-growing regions bordering the Mediterranean Sea (Languedoc-Roussillon, southern Rhône, Provence and Corsica).
November 1st 2021: Xinomavro. Not very well known either! It is not grown in France. It is a Greek grape variety, found in the north of the country (Macedonia). It is at the origin of red wines with little color but tannic, with strong ageing potential.
November 7th 2021: Merlot. Originally from Bordeaux, it is today the most planted grape variety in this vineyard. It is also one of the most planted black grape varieties in the world.
November 12th 2021: Tempranillo. Another Spanish grape variety, planted in Languedoc-Roussillon for IGP red wines.
November 24th 2021: Carménère.

A grape variety originating in Bordeaux, abandoned at the end of the 19th century, because it is sensitive to 'coulure' (non-pollination of flowers due to bad weather conditions) and prefers warm soils.

Global warming acts in its favor, and some Bordeaux winegrowers are starting to plant  it again.

It is very popular in Chile.

I

t is characterized by aromas of Indian spices.

December 4th 2021: Cabernet Franc.

An old grape variety, originally from the Spanish Basque Country, found today in the Bordeaux region and the South-West, but also in the Loire Valley, where it is the most widely planted red grape.

It is one of the parents of Cabernet Sauvignon.
Wine styles also have their calendar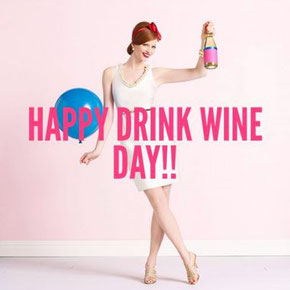 If it is difficult for you to find a particular grape variety or DO at your local wine shop, know that certain days are dedicated to styles of wine, which offers you more choice and more freedom.

 February 18th 2021: Drink Wine Day. The Anglo-Saxons made it: a day dedicated to the consumption of wine. Why not...?!
March 3rd 2021: Mulled Wine Day. We would rather have imagined it in December or January, at the heart of winter, but better late than never!
March 21st 2021: Vermouth Day. An aperitif made with wine and aromatic or medicinal plants of which Piedmont, in the region of Turin, is the historical production area. You have surely already drunk some, perhaps without knowing it: the world leader is Martini. 
June 21st 2021: Lambrusco Day. A sparkling Italian wine, usually sweet and red, easy to drink. Lambrusco is the name of the family of grape varieties from which the wine is made.
June 25th 2021: Rosé Wine Day. With the arrival of summer, a day that comes at the right time!
September 10th 2021: Port Day. Surely the best known of all fortified wines. 
October 23rd 2021: Champagne Day. We no longer present it!
From November 2nd to 8th: Sherry Week. A full week dedicated to this fortifiedwine, produced in Andalusia. The French are more familiar with sherry vinegar. It is Anglo-Saxon countries such as Great Britain, the United States... that are sherry consumers.

November 18th 2021: Beaujolais Nouveau Day. The first wine of the year, sold from the 3rd Thursday of November. Fruitiness is what you expect in this light and easy-drinking wine.
If you are lost with all these dates, don't panic! You don't need to have a good excuse to open and taste a bottle of wine. Finally, it can be 'Drink Wine Day' every day. But remember that alcohol abuse is bad for your health, so it should be consumed in moderation. As the English say: 'A glass of wine a day keeps the cardiologist away!'