How to make French 'galette des rois'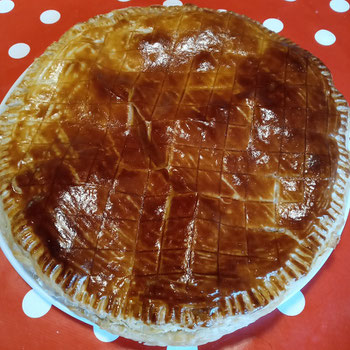 There is nothing simpler than baking a homemade galette des rois (the king's pie)! Few ingredients and little time are needed to make this delicious traditional pastry, that the French enjoy sharing on Epiphany Day, on January 6th - they actually eat galette de rois throughout January. You can buy this traditional French pie at any baker's or pastry shop, but it is quite expensive. So why not try and make it yourself!
For a better result, I recommend you buy puff pastry from your baker's, it will be much better than what you can buy at the supermarket. Some bakers will sell you blocks of dough, to roll out yourself, while others will prepare ready-to-use circles of dough. Finally, before giving you the recipe, here is one last tip from my baker: let the galette rest for a few hours in the fridge before putting it in the oven. You can even prepare the galette in advance, deep freeze it and put it in the oven at the last moment, still frozen. Letting it rest in at a cold or freezing temperature will allow you to obtain a well-risen, airy puff pastry.

Ingredients
The following quantities will serve 8 to 10 people:
- 2 circles of puff pastry
- 200 g powdered almond
- 110 g sugar
- 100 g melted butter
- 1 large egg
- 1 egg yolk (to spread over the galette and brown it while cooking)
- a few drops of bitter almond extract
- 1 'fève'* (you can use a broad bean, which is what people used in the past)

* To learn about what 'fève' is, read the paragraph below.
The recipe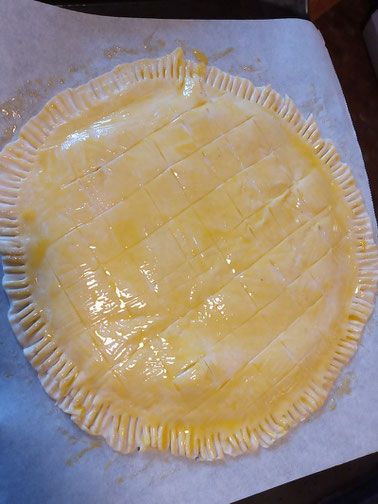 - In a bowl, mix the powdered almonds, sugar, egg, melted butter and a few drops of bitter almond extract to obtain a homogeneous and smooth consistency. You can add the unused egg white to this preparation.
- Spread the mixture on one of the circles of puff pastry, leaving about 1.5 cm on the edges.
- Put the 'fève' or broad bean in the mixture (not in the centre nor to close to the edge).
- Put the second circle of puff pastry on top.
- Seal the edges by pressing down with a fork.
- Using a pastry brush, spread the egg yolk over the galette.
- Put in the fridge for several hours, or in the deep freezer.
- When you are ready to eat the galette, turn on the oven to thermostat 6 (180°C).
- Place the galette in the oven right after taking it out of the fridge or deep freezer and cook for about 20 minutes, or until the galette is golden brown and well puffed up.
- Serve warm.
Enjoy!
What is the 'fève'?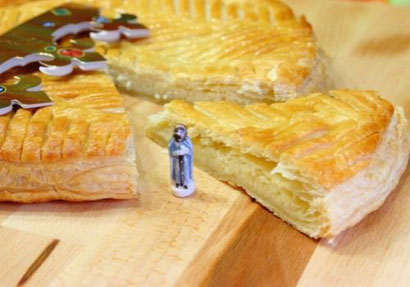 Fève literally means broad bean. Putting a broad bean in the  galette dates back to Roman times, when the latter celebrated the Saturnalia, a festival dedicated to the god Saturn. During these festivities, which took place around the winter solstice, the Romans organised huge feasts, during which masters and slaves shared a cake, inside which  a broad bean was hidden. Whoever got it became king for the day and could give pledges. In the 14th century the French Church appropriated the tradition. From then on, the galette des rois was associated with Epiphany, this religious festival which celebrates the visit of the three Magi to baby Jesus. Nowadays, it is not just believers who come together to share a piece of cake.
Throughout history, broad beans were replaced by a gold or silver coin by wealthy people. Porcelain beans started being produced in 1875 in Saxony, in France in Limoges after the First World War. Then, over time, less expensive plastic beans were used. Today most fèves are made of ceramic.

What to drink with galette des rois?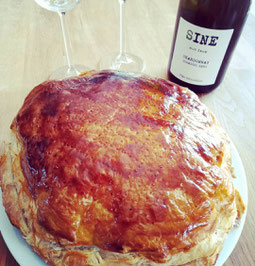 Galette des rois is a rich and sweet dessert, so it is best to avoid wines that are too rich and too sweet. Choose a crisp and fresh wine, with high acidity and low to medium sugar. If you want to drink a still wine (i.e. non sparkling), opt for a semi-dry Loire Valley wine, such as a AOC Montlouis-sur-Loire, AOC Vouvray or AOC Coteau d'Ancenis. Looking for something lighter? A sparkling wine will go perfectly well with galette des rois. Do not choose a wine that is too dry/brut, so as not to create a sharp contrast with the sugar of the pie. Champagne and Crémants (rather semi-dry, or brut with a fairly high dosage), Clairette de Die, Blanquette de Limoux (semi-dry), Asti Spumante... will work well. And finally, to make a change, why not serve apple or pear cider?