Red wine and red radicchio risotto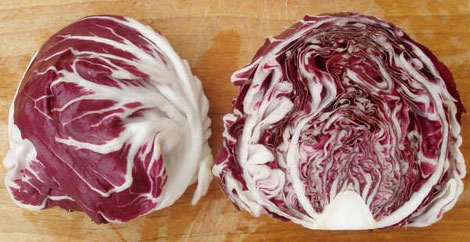 For the past few years, we have been collecting a weekly basket of organic vegetables produced on a farm located 15 minutes from where we live and which employs people on the dole or migrants. Every week, it's a surprise: we don't choose the content of the basket. But that's what I like, because it encourages me to look for and test new recipes, made with vegetables that I myself wouldn't necessarily have bought. And each week, the basket contains a recipe that allows to use at least one of the vegetables from the basket. In January, we twice had red radicchio, which we ate as a salad (with dressing, squash seeds, but also raisins and orange pieces to soften the bitterness of the radicchio) then in risotto cooked with red wine. This recipe was the one included in the basket, and we found it delicious, which is why I've decided to share it with you.
The recipe
Ingredients for 4 to 5 people:
- 400g risotto rice (Carnaroli or Arborio type)
- 250g red radicchio
- 2 small red onions
- olive oil
- 20 cl red wine
- 1.5 l vegetable broth
- 100g of parmesan
- salt and pepper
NB: if you don't have chicory on hand, this risotto can be made without it. The salad nevertheless brings more flavor and complexity to the dish.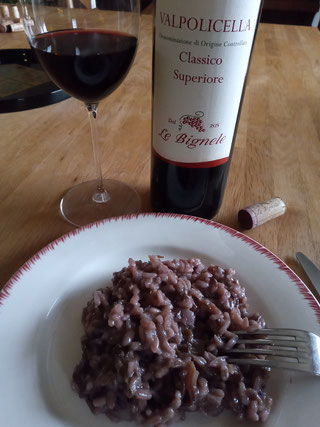 - Prepare the vegetable broth.
- Peel and slice the onions. Wash and dry the chicory then cut it into thin slices.
- Brown the onions in a pan with a little olive oil. As soon as they are melted, add the chicory, salt and mix.
- Add the rice, mix and cook for a few minutes until the rice grains are translucent.
- Add the red wine and cook for a few minutes to evaporate the alcohol.
- Add a ladle of vegetable broth, stir with a wooden spoon and wait for the rice to absorb the liquid.
- As the broth is absorbed, add another ladle of broth, and this until the rice is cooked (about 18 minutes).
- Once the rice is cooked, add the gratedpParmesan, mix well then let stand before serving. Enjoy !
What shall we drink with this?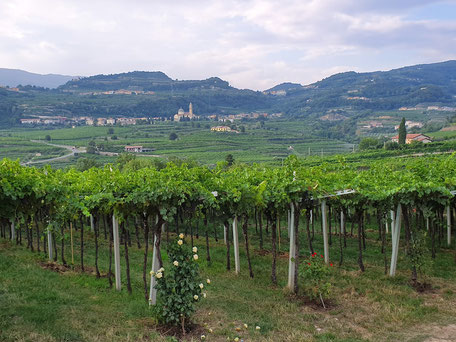 The red wine that you have used to make the dish! Logic! In this case, a red wine with little or no tannins will do well. And if we push the logic even further and respect regional agreements, we can serve an Italian wine with this dish of Italian origin. I chose a DOC (Denominazione de Origine Controllata) Valpolicella from the family estate 'Le Bignele'. A few words about this star appellation of Italy, unfortunately not so well known on our side of the Alps as in English-speaking countries. However, Valpolicella, a region located in Veneto, between Lake Garda and the beautiful city of Verona, is really worth a visit, both for its wines and for its landscapes.
DOC Valpolicella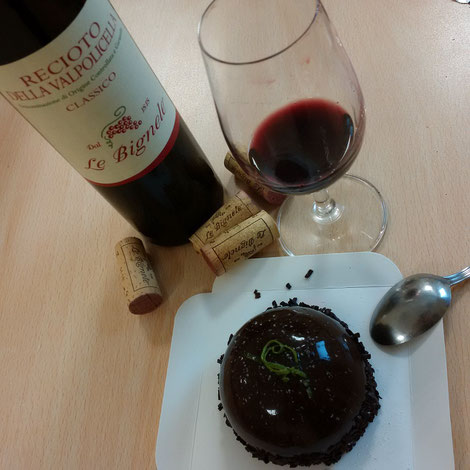 La Valpolicella, a region in northeastern Italy, produces only red wines, made with three indigenous grape varieties: Corvina (the most frequently used), Rondinella and Molinara. Four major styles of wine are produced, with some very specific winemaking methods:
- DOC Valpolicella: the most classic of the four styles, resulting from a classic vinification, for simple dry red wines, fruity, with little tannins, which are rarely aged in barrels and to be consumed within 5 years. It is this wine that we have chosen to cook and accompany the risotto (photo above). By the way, two interesting mentions on the bottle: "Classico" indicates that the grapes come from the historic heart of the production area, here a hilly region with clay-limestone and volcanic soils. "Superiore" means that a minimum ageing period is required before the wine is released (this one  has been aged for one year in barrels).
- DOC Amarone de la Valpolicella: star of the region, this dry red wine is produced using the so-called "passito" method, which consists in harvesting very ripe grapes that are still full of acidity, then drying them for about three months indoors in order to concentrate sugars and aromas. Fermentation takes place during the winter months. Then the wines are aged in Slovenian oak barrels, to obtain full-bodied, powerful and tannic wines, with high alcohol and concentrated aromas of spices and red fruit. To be served with grilled or braised red meats or game.
- DOC Recioto de la Valpolicella: same wine-making process as for Amarone, but with much sweeter grapes, which gives full-bodied and thick dessert wines, with intense aromas of red fruit. To be enjoyed as an aperitif, with blue cheese or chocolate desserts. Two years ago we tasted this wine (still from Le Bignele) with a wine club  with a chocolate and red fruit cake, and the pairing was just perfect - a killer!
- DOC Ripasso de la Valpolicella: "ripasso" literally means "passed again". To produce this wine, the winemaker uses the skins of the grapes used for Amarone. They are collected in the vat before the end of the Amarone's alcoholic fermentation and transferred, without pressing, to a vat of Valpolicella whose fermentation is finished. The yeasts still present on the skins of the grapes consume the sugar remaining in the grapes. The latter also bring color, aromas (plum, red cherries) and tannins.
A great diversity of wines, unfortunately difficult to find in France ... So go and discover this corner of Veneto, and the Lake District more generally, that are absolutely beautiful. The nearby city of Verona is definitely worth a look as well. And not to spoil anything, we also eat divinely in Italy! Ciao!