Slow tourism and wine tourism in the Loire Valley with Loire Wine Tours
What is slow tourism?
Slow tourism - or slow travel- is a form of travel that appeared in the early 2000s, and which, with Covid-19 and the ecological and environmental problems that have been raised by the pandemic, is now experiencing strong craze. Slow tourism is the art of travelling while taking one's time, reconnecting with oneself and with nature, as well as favouring encounters with locals (craftsmen, farmers, restaurant owners, hosts holding beds and breakfasts...). It means consuming local products while discovering the natural and cultural heritages of a region. It is a kind of tourism that leaves room for rest, contemplation, disconnection and digital detox, as well as authenticity. Although slow tourism is possible abroad, it generally favours nearby destinations and less polluting means of transportation, such as cycling or walking. It is an alternative travel model that promotes the local economy, environmental protection, respect for the territory and its inhabitants, and social initiatives.
How our Loire Wine Tours are in line with slow tourism
Taking the time to discover the vineyard on foot or by bike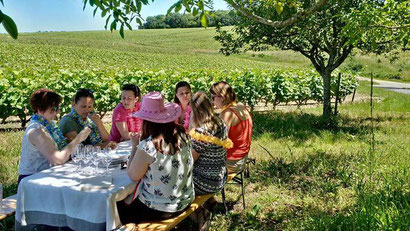 We favor slow means of transportation: we offer visitors to discover the vineyard on foot or by bike. Everyone walks or cycles at their own pace, and stops in the vineyard are the opportunity to discover and enjoy the surrounding landscapes. Extended breaks are sometimes possible: in the summer we offer wine tastings at the heart of the vineyards, during the day or in the evening.
Meeting the locals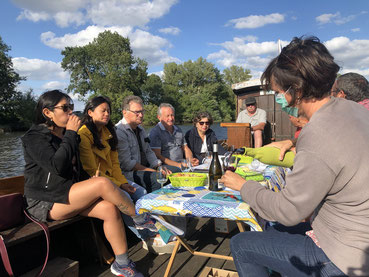 Our visits are the opportunity to immerse oneself in the daily life of a local winery, where visitors can meet the members of the family as well as the employees working in the vineyards or in the cellar.
The walks in the vines may also be the  opportunity to meet some winegrowers or seasonal workers.
For several years now, we have also had partnerships with local boatmen: Millière Raboton, Homme de Loire, with whom we organise boat rides and wine tastings on the Loire, and Les Mariniers du Jean Bricau with whom, in the summer, we run boat rides and aperitif wine tastings on River Cher.
In the evening, take the time to enjoy the Loire landscapes and chat with local people who are passionate about their region, while sipping a glass of wine and tasting local specialities.
Tasting local specialties made by local producers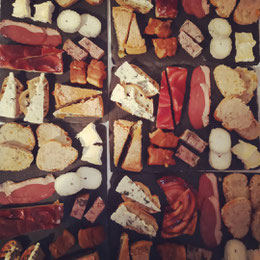 Our wine tastings are always complemented by regional food products, because wines are always better when you taste them with food, and because we are committed to introducing visitors to local specialties! We supply ourselves from the producers of our village and the shops of surrounding towns. Here are some of the food products you will be able to taste and enjoy during our wine tours and wine tastings and the places where you can find them.
Regional food products: our addresses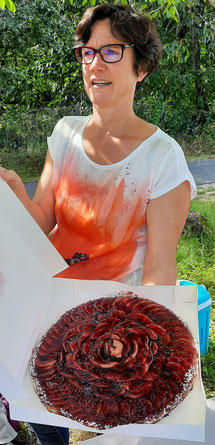 The Loire fish rillettes we serve during our wine tastings are cooked by Nicolas Hérault, a professional fisherman based in the west of Tours. We serve these rillettes as an aperitif with sparkling Loire Valley wines. They include different types of fish, such as mullet, shad or catfish, and are cooked with local products: saffron or Sauvignon Blanc from Touraine, for example. If you like these rillettes, you will be able to buy them at the end of your visit, as we sell them at the winery.
'Charcuterie' is one of the specialties of the Loire Valley. They are therefore a must in our wine tastings: rillettes from Tours made with pork, rillons from Touraine, andouillette terrine, quiche made with rillettes and rillons... come from the Bergère's charcuterie, in Vernou-sur-Brenne.
You will find the local cheeses that adorn our tasting slate boards - Sainte Maure de Touraine, tomme de Touraine, Petit Trôo, galet de Loire... - at the grocer's in Vernou-sur-Brenne, Ô panier gourmand: Victor will be delighted to help you discover all the local food products he sells.
The fresh goat cheese spreads that come with the wines are produced by a young local company called Amaltup. We also sell their products at the winery.
Nougat de Tours - a tart made with candied fruit and covered with a blend of beaten egg white and powdered almond- is prepared by the Mr Rivero, one of the bakers in Vouvray, while the winegrower's pie (pictured here) comes from Mr Jeffray's bakery, also located in Vouvray.