a protected species in the vineyard of Vouvray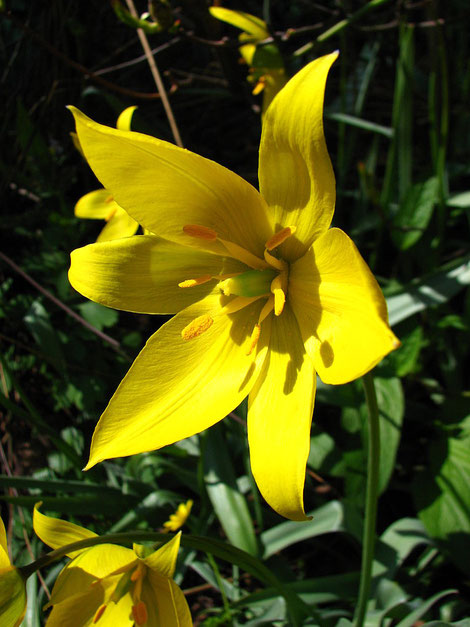 One week before Easter... it is springtime, a period of the year that is generally rejoicing and cheerful, but the exceptional context this year, due to the period of confinement imposed by the French government to combat Coronavirus, will make spring 2020 a peculiar and somewhat memorable moment. Certainly a stressful period, especially for those who like me are independent workers and can't be on the dole. We go from moments of doubt and moments when we remember that  very often, life has shown that nothing happens by chance and that positive elements arise from times that at the moment are felt as difficult.  So I try to tell myself that tomorrow is another day and to focus on the present. This is also the opportunity to rediscover all the small treasures that surround us but that we don't pay attention to because of the hectic way of life we are living nowadays.
I wanted to share with you one of the pleasures I have every spring when I go for walks in the vineyards located on the plateau above the village of Vouvray. There you can find some plots of land covered with wild tulips - Tulipa Sylvestris in Latin. Those elegant, fragile flowers, whose fragrance is quite intense - unlike the tulips you can buy from flower shops - were frequently found in our vineyards until the 1960s, but they haven't resisted the use of pesticides and other chemicals introduced in the vineyards at that time. Nowadays, in Vouvray, they won't be found everywhere! They grow in plots of land that are well-exposed to the sun, of clay and limestone soils, owned by Domaine Huet, one of the most famous wineries in Vouvray, that has been using biodynamics in their vineyards since the 1980s. No chemicals are used in the vines, which explains why the flowers have survived, and the soils are tilled every year, which allows the natural propagation of the bulbs, after the mother bulbs and the daughter bulbs have been separated by the plough. As a consequence, every year, when blooming, those flowers form a golden yellow carpet and offer a stunning sight. It is always a pleasure to see them come back every year, as they are a sign that warmer times are coming.
Picking the flowers or the bulbs is forbidden. Those tulips are rare and are consequently protected. In any case, it would be useless to bring some back home, as they won't stand being in a vase for very long - they will fade after less than 24 hours. And if you wanted to try to replant them in your garden, it probably wouldn't work as they need a certain type of soil - as explained above -  that has to be tilled every year. To enjoy their beauty, come for a walk in the vineyards of Vouvray, in the Loire Valley. And if you are not sure where to find them, ask the locals. Those tulips are well-known, people will know where to send you for you to admire them.
Fortunately, this year I was lucky as I was able to see these wild tulips on Sunday March 15th, just before lowkdown started. They were just starting to appear in the vineyard. This weekend is problably the last opportunity for you to admire them - only of you leave nearby though, as walking or cycling more than 1 km from one's home is not allowed. For those of you who live a little farther, you'll have to wait for another year!