Spring is back, let's finish pruning!
Our pruning workshop cancelled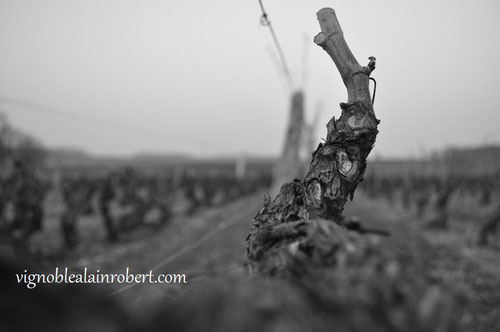 I started writing this article during winter 2017-2018, but never finished nor published it. Today is Friday 20th March 2020, the first day of spring, and we were supposed to hosts a few guests for a pruning workshop in the vineyard of Vouvray. It had to be cancelled, due to the confinement measures taken by the French government to prevent the spread of Coronavirus in the country. Well, it'll be for next year now! This moment of confinement is for me the oppotunity to write on the blog related to my professional websites - something I rarely have enough time to do, especially during the tourist season - and to finish this article about vine pruning.
End of pruning for winter 2019-2020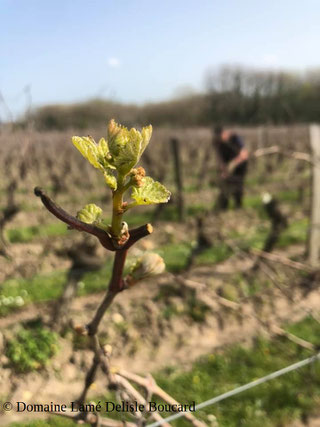 Winter 2020 was particularly mild, and consequently grey and rainy, in the Loire Valley. This means plants, trees and flowers have started budding and blooming early, and as I am writing this article, a lot of buds have already started growing in the vineyard, as shown by this picture, taken yesterday and posted on Facebook by one of our colleague winemakers while he was finishing pruning in AOC Bourgueil (Philippe Boucard from Domaine Lamé Delisle Boucard, whose name I am happy to share with you as he is one of the winemakers whose wines I really appreciate and serve regularly during my wine tastings). This bud has grown so high that it looks like what it should in May.
For the winemakers time is precious now. They have to finish pruning before the buds start coming out and grow too much, or they could break them by accident if pruning is done too late. But this is also the time of the year when the winemakers worry about morning frost, a climatic disorder that can potentially happen until the beginning of May (11th, 12th and 13th May are 3 critical days called 'les saints de glace' by the French; more information about those 'icy saints'* at the bottom of the page) and that could compromise the harvest of the year if debudding starts too early: the buds will freeze and the future grapes that are dormant inside the buds are killed.
Why should vines be pruned?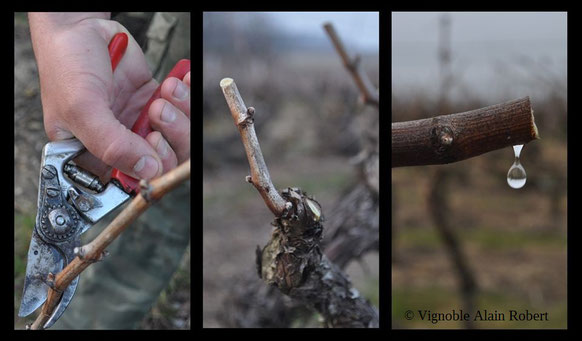 Pruning is the winemaker's main work in the vineyard in winter. It starts at the end of November, after the first frosts, and once the leaves have fallen, and finishes at the end of March or at the beginning of April at the latest, before the vines start crying (a phenomenon shown in the picture which is due to the sap flowing up the plant) and debudding.  Pruning is meant to limit the excessive growth of the vine, to regulate the amount of grapes it will produce during the year while  improving their quality. It also allows the vine to stay in good health and survive, and to produce grapes over the next years: a vine that is never pruned stops giving grapes after a while.
Who first started pruning vines?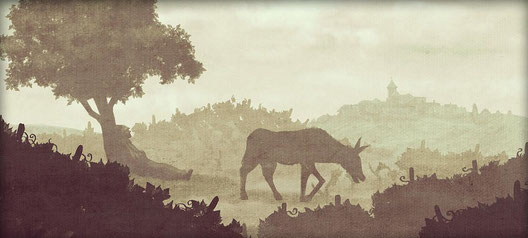 Good question... No précise answer though. We know that pruning vines is a very old technique that the Romans already used more than 2,000 years ago.
In the Loire Valley, and more precisely in Touraine (the region around the city of Tours), according to a legend, it is Saint Martin of Tours, one of the first bishops of the city (he was appointed in 371 and continued in that position until he died in 397) who found out the importance of winter pruning. Or if we want to be precise and give unto Caesar what is Caesar's, it is his donkey who helped him discover the impact of the technique. The legend says that during a walk in the countryside around the monastery of Marmoutier - that Saint Martin founded in 372, the latter stopped to make a pause (some will say to take a nap...). He tied his donkey to a tree located near a vineyard. When he came back (or woke up, depending on the version), he found out that the donkey had been grazing, eating the leaves of the vines, leaving nothing but bare trunks and branches. However, the next autumn, at harvest time, the monks noticed  that the vine stocks that had been attacked by the donkey gave better grapes than usual - bigger, sweeter, more juicy.  That's why you'll hear some locals say that winter pruning was invented by Saint Martin's donkey.
Pruning techniques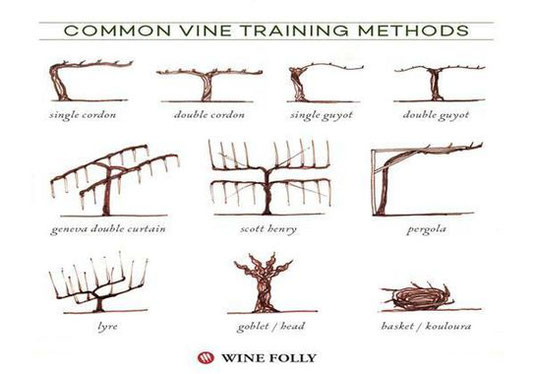 Winter pruning is a skilled work that requires learning and training. There are several schools in France teaching viticulture and wine-making. Winter pruning is part of the curriculum. They also offer interships for adults who wish to learn how to prune. It generally takes 3 winters - 12 months - to master the technique and to prune be able to at a good pace. How much time does it take to prune one hectare (100 m x 100 m, that is approximately 2.5 acres) of vineyard? It actually depends on how many vines are planted per hectare. This is something regulated by the AOCs. In Vouvray, where I come from, the vinegrowers have to plant 6,660 vines per hectare and it will take a good worker about 70 hours to prune one hectare. A little longer in the Champagne or Burgundy regions, where 10,000 vines have to be planted per hectare A little less in Bordeaux, where the winemakers plant about 4,500 vines per hectare.
The pruning technique used will also have an impact on the time spent pruning. Those techniques vary depending on the grape varieties, the regions, the AOCs. 'Guyot simple' (from the name of its inventor, Mr Guyot) is used in vineyards growing Cabernet Franc and Cabernet Sauvignon (like in Bourgueil or Chinon in the Loire Valley, or in Bordeaux and the surrounding AOCs); 'Guyot double' in Alsace; Cordon de Royat in the Champagne region...  In AOC Vouvray, the vinegrowers use goblet pruning. Nothing in the rules imposed to the winemakers actually tells them that it is the technique they should use but it is generally agreed and has been a tradition for a long time. Here is a video - in French, sorry!... but you'll be able to enjoy nice landcapes and to see a vinegrower pruning - explaining goblet and Guyot pruning in the Beaujolais vineyard.
After all these explanations and information, if you feel like learning more and experimenting pruning yourself, come and join us in the Vouvray vineyard! In March 2021, for sure, we'll plan another pruning workshop!
* Who are the 'icy saints'?
3 of them - saint Mamert, saint Pancrace and saint Servais - celebrated on May 11th, 12th and 13th by the Catholics. They are made responsible for bringing cold back at this time of the year. Which is why gardeners are generally advised to wait til mid-May to plant their tomatoes, courgettes and other summer vegetables and flowers that are sensitive to cold and frost.
Nowadays you won't find be able to find those saints' names in the calendar. They have been replaced by sainte Estelle, saint Achille and  sainte Rolande. The Catholic church decided to forget them as they were associated with worries and problems. However their names can still be found in some almanachs.