Desserts and candies of the Loire Valley
In February 2023, in partnership with the tourist office of Tours, I had the opportunity to organise a wine tasting based on the sweet wines of Vouvray and the desserts and candies produced in the Touraine region. Do you know any of them? Some are only made by a few craftsmen and are therefore totally unknown outside the area, and sometimes  even by some people who live in the region! Perhaps our wine tastings will be for you the opportunity to taste and discover them as well.
Nougat de Tours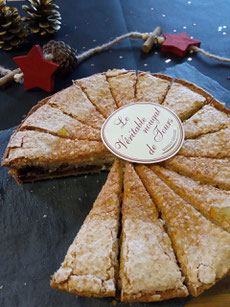 When you tell French people about nougat, they immediatly think about a hard or chewy candy made with dried almonds and honey in Montélimar, in the south-east of France. But in Tours, nougat is not a sweet, it is... a cake! Light shortbread on which apricot jam and candied fruit are spread before they are covered with 'macaronade' - a mix of beaten egg white, powdered almond and sugar. After it has baked in the oven and cooled down, the cake is sprayed with icing sugar.  The name 'nougat' comes from the fact that the cake includes ingredients similar to those found in the sweet: almonds, egg white and icing sugar. Good news for the gourmets! Nougat de Tours is a cake that travels well: you don't need to put it in the fridge and it will keep for about 10 days. A good opportunity to visit a baker's to buy some and to put it in your suitcase for when you leave the Loire Valley! Serve it with a super sweet Loire Valley wine (Vouvray, Coteaux du Layon, Quart de Chaume...) or if you prefer lighter wines, with a semi-dry sparkling rosé wine or a semi-dry sparkling Vouvray - all these are wines you may get to try during your wine tasting with Myriam and that you will be able to buy at cellar-door prices at the end of your wine tour directly from Myriam's husband's winery.
The winemaker's tart ('la tarte vigneronne')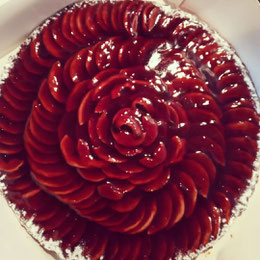 A few very simple ingredients make this light and delicious local dessert: a thin layer of caramelized puff pastry, some apple slices and on top of that, a spoonful of local red wine jelly (in general Chinon or Bourgueil wine, as the original recipe comes from that area).
To be paired with a semi-dry sparkling rosé, a semi-dry still rosé such as Cabernet d'Anjou or Rosé d'Anjou. And why not try a light red wine with it?! Here are two bakeries where you can buy this 'tarte du vigneron' : boulangerie Rivero in Vouvray et boulangerie Guérin in Nazelles-Négron (near Amboise). Once you'll have tried it, you'll want more, for sure! And if you want to make it yourself, you will find the recipe on our blog (link below).
The macarons of Cormery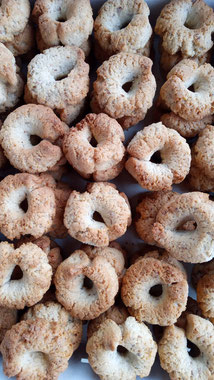 Egg white, sugar and powdered almonds... these are the only ingredients you need to bake these lovely cakes that are unique in France, since they are only made in one village in the country! These macarons come from Cormery, a village located in the south-east of Tours. A beautiful place along River Indre - a tributary of the Loire river - where you can still find the ruins of a former abbey. Actually the recipe is said to have invented by one of the monks in charge of cooking there. The story says that a young man whose fiancée had died decided to become a monk in Cormery. He kept the engagement ring as a souvenir. Over the years he became a greedy and old monk, and one day, when going through the kitchen, he dipped his finger into a bowl to try what the chef was preparing. The ring fell in the dough... which inspired the chef and gave him the idea of creating little cakes with a round shape. Nowadays, two bakers bake and sell macaroons in Cormery. Each of them has its own recipe considers he owns the original one! 'Aux vrais macarons de Cormery' vs 'Aux véritables macarons de l'abbaye de Cormery'. Which ones ar the best? We can't answer for you! Go and spend some time in this lovely village to try the two recipes, maybe you'll have a favourite? To taste with a sweet or super sweet Vouvray or Montlouis-sur-Loire or a sweet wine from Anjou (Coteaux du Layon, Coteaux de l'Aubance, Bonnezeaux...)
Vouvrillon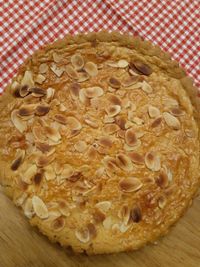 Here is another dessert that is only produced in one village in France, by a single bakery! You may not know it, but the "Vouvrillons" are the inhabitants of Vouvray, the wine-growing village where this dessert is made. No wine in the recipe, but powdered almonds, and chopped almonds on top. A cake that looks like "broyé du Poitou", but it feels softer and tastes a little sweeter. You will find it at the Rivero bakery in Vouvray. To enjoy at tea time, with a sweet wine from Vouvray of course! I recently tried it with a sweet Vouvray wine produced in 1990, it was a delicious and well-balanced pairing.

'Le Balzac'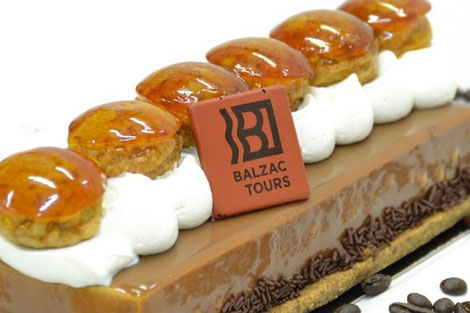 If you like France or have studied French, you probably have heard of the famous writer Honoré de Balzac. He was born in Tours in 1799, in a house located in the main street of the city, now called 'rue Nationale'. He loved the Loire Valley and regularly came and spent time in the area, especially in a manor house located in the village of Saché that was owned by his mistress, Madame Hanska, and that is now open to visitors. In 2019, to celebrate the 220th anniversary of Balzac's birth, the local bakers worked together to create a cake bearing his name. 'Le Balzac' is inspired by another French cake called 'Saint Honoré' - a reference to Balzac's first name - and includes coffee as one of its ingredients, a drink that the French writer loved particularly, more than wine - he is said to have consumed up to 50 cups of coffee a day! He considered this drink as necessary for his inspiration. But let's come back to our cake! The bottom is made of a crunchy biscuit, covered with a light mousse and a series of cream puffs and whipped cream ('chantilly' in French). The cake combines chocolate, vanilla, caramel and coffee flavours, for a delicious result! 16 local shops in the Touraine region bake and sell this cake, and in particular Mr and Mrs Huvet, whose 'boulangerie-pâtisserie' is located in Vernou-sur-Brenne, just a few minutes's drive from our vineyard and family winery. What should you drink with this dessert? A sparkling wine from the Loire Valley... or a nice cup of coffee to match with one of the ingredients of the cake!
Poires tapées of Rivarennes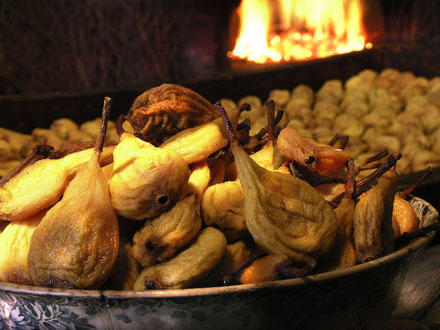 How could we translate the name of this unique recipe originating from the village of Rivarennes, west of Tours? 'Beaten pears' seems to be the appropriate expression...! In fact,pPears are peeled, then slowly dried out in a traditional bread oven before they are flattened thanks to a wooden tool called 'platissoir' (see in the picture) to get rid of all the air and the water that might be left in the fruit. This technique allows the pears to be kept for years. They have to be rehydrated into wine or sugared water before they can be used for cooking or baking. This method was born thanks to the phylloxera crisis - in case you don't know what the phylloxera crisis is, come and join one of Myriam's wine tours, this is something she explains during the guided walks she gives in the vineyard. In the late 19th century, the local winemakers had to dig out their dying vines and started planting fruit trees such as apple and pear trees as a substitute.  The villagers of Rivarennes developed another production and the technique of beating the fruit to make a living... until the 1930s when people started using refrigerators! The production of beaten pears was forsaken until it was revived at the end of the 1980s.
Sucres d'orge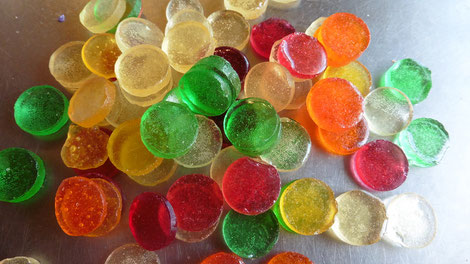 They are part of my childhood memories... A confectionery that a certain number of pastry shops in Tours produced in the past. At the end of the 19th century, the city was already famous for this flattened sugar candy. At the time, two aromas and two colors were to be found: yellow for Bourbon vanilla and red for elderberry. Today, Confiserie Hallard, located in Loches, is the only company that still produces this candy, which now comes in multicolored aspects and various flavors, always natural: apple, lemon, cherry...
Cotignac of Orléans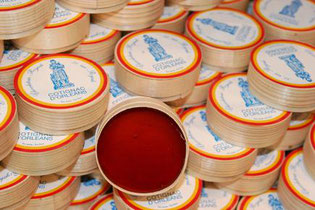 Cotignac d'Orléans is a soft and melting quince paste sold in a small spruce box showing Joan of Arc's portrait - she is the heroin of the city as she freed Orleans from the English in 1429. This confectionery was once sold by apothecaries for its anti-diarrheal properties and to regulate digestive problems. Today there is only one manufacturer, who produces around 25,000 boxes of 22 grammes each, every year.