The winemaker's tart: a Loire Valley dessert
Autumn is back, and with it, the harvest season - grapes of course, but apples as well! This is the time to taste and bake a Loire Valley dessert: the winemaker's tart, originally from Chinon, is a light and crispy apple pie covered with wine jelly.  I regularly serve it during the wine tastings and the picnics I organise in the vineyards. You will find it in many bakeries and pastry shops in Touraine.
The recipe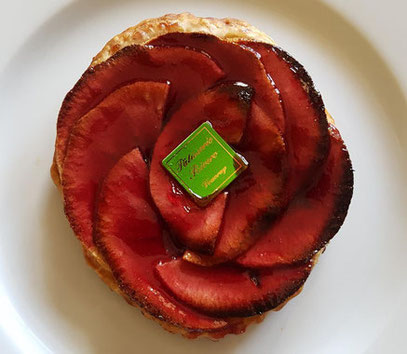 The winemaker's tart is an easy-to-make dessert, with ingredients at hand, except for the wine jelly , which you will find in delicatessens or directly from the winegrowers'.
Ingredients (serves 4):
- 1 butter puff pastry (preferably purchased at the baker's)
- 20 g softened butter
- 50 g brown sugar
- 4 apples
- red or rosé wine jelly

- Preheat the oven to 200°C.
- On the back of the puff pastry, spread the softened butter (but not melted), then sprinkle with half the brown sugar.
- Place the dough on parchment paper, then on a baking tray.
- Peel the apples and cut them into thin strips, then arrange them on the dough. Sprinkle with the rest of the sugar.
- Bake for 45 minutes.
- Remove from the oven, spread the wine jelly over the tart.
- Leave to cool before eating!
What should we drink with this dessert?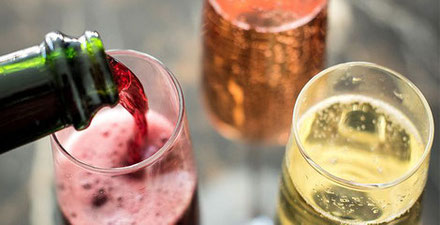 You've have probably thought about the wine that goes into the jelly? Why not, if you've bought it directly from the winemaker's. However, if it is a red wine, it is inherently dry and therefore may not go well with the sugar in the dessert, unless it is very fruity and not tannic at all. With a dessert, there should generally be some sugar as well in the wine that is served with it!
If you really want to taste a red wine with this tart, you can serve a sparkling red - a style of wine that the town of Saumur has made its specialty, but that you can now find in many AOC wineries in Western Touraine (AOC Bourgueil and Chinon among others). Here is an address where you will find a very good sparkling red: Château de Minière, in Ingrandes-de-Touraine, on AOC Bourgueil. They produce a fruity natural sparkling wine (Bulles Rouges de Minière) which has very fine bubbles. The sweetness can vary from one bottle to another (the production process does not completely control the final sugar level in the bottle, unlike the traditional method) but we have already tasted this wine with desserts, and it works very well. Finally, if you want be a little more exotic, an Italian Lambrusco should do the trick!
A still semi-dry rosé (in the Loire Valley, AOC Rosé d'Anjou and Cabernet d'Anjou produce this style of wine) or sparkling rosé will also go well with this dessert.