What wine with Asian food?
Here is a new article related to the "Wine and Vietnamese food" tasting that I will host on the evening of Friday February 4th 2022, for Têt, the Vietnamese New Year.

I've travelled twice to

Vietnam, in 2018 and in 2019, and I fell am in love with this beautiful country, its people and its food, so diverse, tasty and balanced.

The pandemic will not allow me to go back until further notice, so I got the idea of offering this wine and food tasting to introduce people to Vietnamese cuisine and combine it with my other passion, oenology.

Wine is not very much consumed in Vietnam (and in Asia in general), as the Vietnamese are more fond of beer and rice and corn spirits.

In addition, Asian cuisine is not the easiest one to pair with wine.

The problem:

umami.

A few explanations and suggestions for food and wine pairings before giving you a little insight into the tasting of February 4th.
Umami, the 5th flavour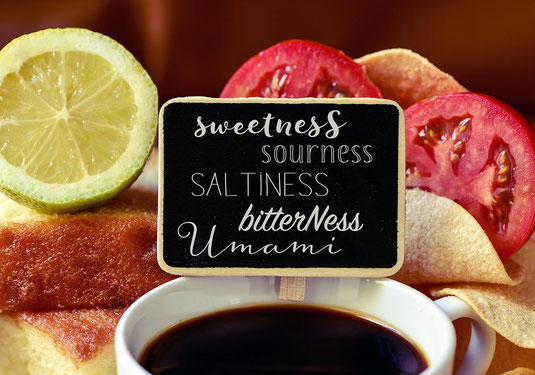 Sweet, salty, sour, bitter: you are undoubtedly familiar with these 4 flavors, that we are taught to recognize from an early age. But have you ever heard of umami? In Japanese, umami means 'savory taste' - a term English speakers often use to refer to umami taste. Umami is now considered as one of the five basic flavors. It was identidied in 1908 and officially recognized by scientists in 1985. It is due to L-glutamate, an amino acid found in certain foods such as ripe tomatoes, cooked mushrooms, Chinese cabbage, spinach, dashi - Japanese broth made from kombu seaweed, parmesan, dried meats, smoked fish, soy sauce or fermented fish sauces such as Vietnamese nước mâm or garum produced in Roman times. Umami causes salivation, it leaves a lasting and sweet aftertaste. At low concentrations, it improves the flavor of a wide variety of foods, especially in the presence of a matching aroma. Sprinkle parmesan on pasta cooked with tomato sauce and you will create a synergy that will make each of the foods better tasted together than separately.
Umami and wine
A good pairing?
The problem with umami in food is that it makes wines more bitter and more acidic and can leave a dry feeling in  the mouth. It also tends to erase the fruity aromas of the wine and can reduce the sensation of sweetness in wines containing residual sugars (i.e. grape sugars not turned into alcohol). This flavor is particularly problematic with tannic red wines.
What wines should we drink with food containing umami?
On the one and, wines with freshness (i.e. acidity) to keep liveliness in the mouth and cleanse the palate, but also sufficiently fruity wines which will succeed in retaining their aromatic intensity in the face of umami. Acidity and fruit: these are two characteristics found in many wines produced in the north of France and Europe, in regions with a cool climate, such as the Loire Valley. Wines made with Sauvignon Blanc and Chenin Blanc, which are among the most cultivated grape varieties in the Loire Valley, will go perfectly with Asian food. If we push further east, Riesling, planted in Alsace, Germany and Austria, and Grüner Veltliner, mainly grown in Austria, will also hold up well against umami. And if, however, you really fancy a red wine, opt for light wines made from grape varieties with high acidity and low tannins, such as Gamay and Pinot Noir. A Pinot Noir from Alsace, an AOC Bourgogne made from Pinot Noir, Beaujolais or Beaujolais-Villages wines made from Gamay will do well.
'Wine and Vietnamese food' tasting: the menu...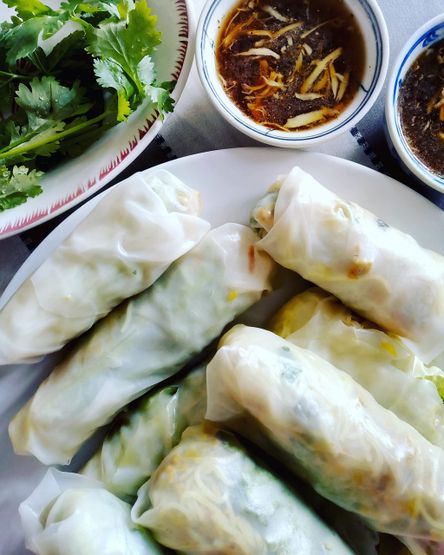 The date of Friday February 4th 2022 was chosen for this 'Wine and Vietnamese food ' tasting because it falls on the week of Tet (or Tết Nguyên Đán), the Vietnamese Lunar New Year, which will take place precisely on February 1st 2022 and will open the year of the Tiger.
- spring rolls with veal and turmeric 
- fried pork spring rolls (made by Mme Hul, a Cambodian living in the area)
- vermicelli, prawns and celery salad
- bánh canh gà: noodle and chicken soup
- sautéed pork in coconut milk
- bánh bao: steamed brioches that in Vietnam, people buy in the street as a snack, revisited in local style with rillons and Sainte Maure de Touraine
- chè chuối: banana and tapioca dessert
For two of these dishes, the guests may get involved in shaping and finalizing the dishes before cooking and/or tasting!
You want to discover Vietnamese food? Join us on Friday February 4th  at7:30 p.m. Registrations are open. You will find the link to book below.
... and the wines: what are we going to drink?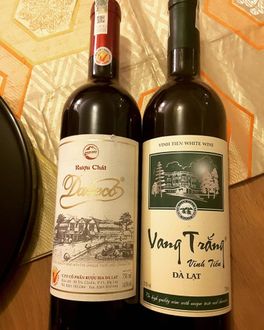 Unfortunately, no Vietnamese wine, although such would have been my wish ...! But I have not had the opportunity to go back to Vietnam since December 2019, the country's borders being hermetically closed to foreign tourists since March 2020. And as the wines produced in Vietnam are not imported to France, it will not be not possible to have you discover the production of the country. On of our blog articles nevertheless presents wine production in Vietnam, I invite you to discover it by clicking on the link below.
We will therefore taste wines produced in various French and/or European regions, taking into account the explanations given above in terms of food and wine pairings. Do you have any ideas of wines we could pair with the dishes mentioned above? We invite you to make suggestions by leaving a comment below this article. After February 4th, we will reveal the wines tasted with these different dishes.